One of the building blocks in establishing a successful and cohesive team is trust. Whether it is encouraging an environment of innovation and creativity or developing honest and effective communication, there needs to be a foundation of trust for any team to work well together. How can you help develop trust within a team and set them up for success? Let's talk about some ways to do so, from team building activities to strategic initiatives.
Team Activity: The Birkman Map
One of the best ways to build trust is to simply encourage employees to get to know one another. When people understand the unique personalities of their team members, it breaks down misunderstandings and strengthens relationships.
An easy activity uses the Birkman Map which lets people see the overall personality of their team. It also helps team members see how they relate to their peers, enabling them to become more aware of themselves and others.
To begin your activity, start by reviewing the Birkman Map with the team—you can refer back to the email on the Birkman Map that we sent out recently (//link to previous email)!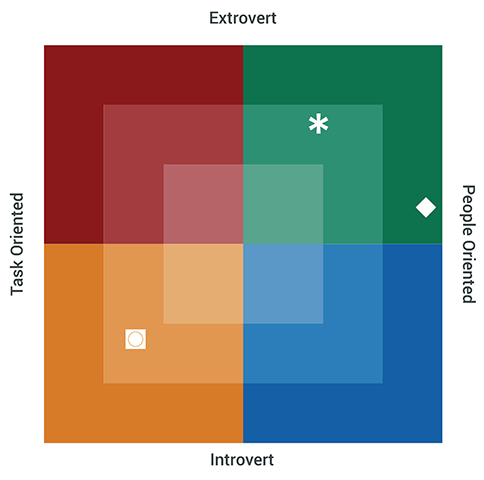 In your meeting space, set up a life-sized version of the Birkman Map, using the Birkman Floor Map, Birkman Tape Set, or Birkman Cones. Have team members stand in the location of each of their symbols as you talk about Interests, Usual Behavior, and Needs on an individual level. This helps people visualize how they relate to their peers on the Birkman Map. As you transition from Interests to Usual Behavior to Needs, have everyone note how the orientations change. For each symbol rotation, ask the discussion questions listed below:
Interests
What are the top Interests for each team member? Why do they enjoy these activities?

Which projects or assignments most motivate each team member? Least motivates?

How are Interests represented on the team? Do team members have very similar Interests or a wide variety of Interests?

How will each person's Interests impact the team?
Usual Behavior
What is the Usual Behavior for each team member? How is each individual most productive?

What are the unique strengths each member brings to the team? How can the team utilize these strengths?

Are there any potential blind spots or gaps on the team's Group Map that they should be aware of? Do they have a wide variety of strengths or do most members share the same strengths?
Needs and Stress Behavior
Have each member share their Needs with the team.

Are the Needs being met by the team? By the organization or company? How can the team help meet the Needs of each team member?


Have everyone share their Stress Behaviors. How do you act when you become unproductive?